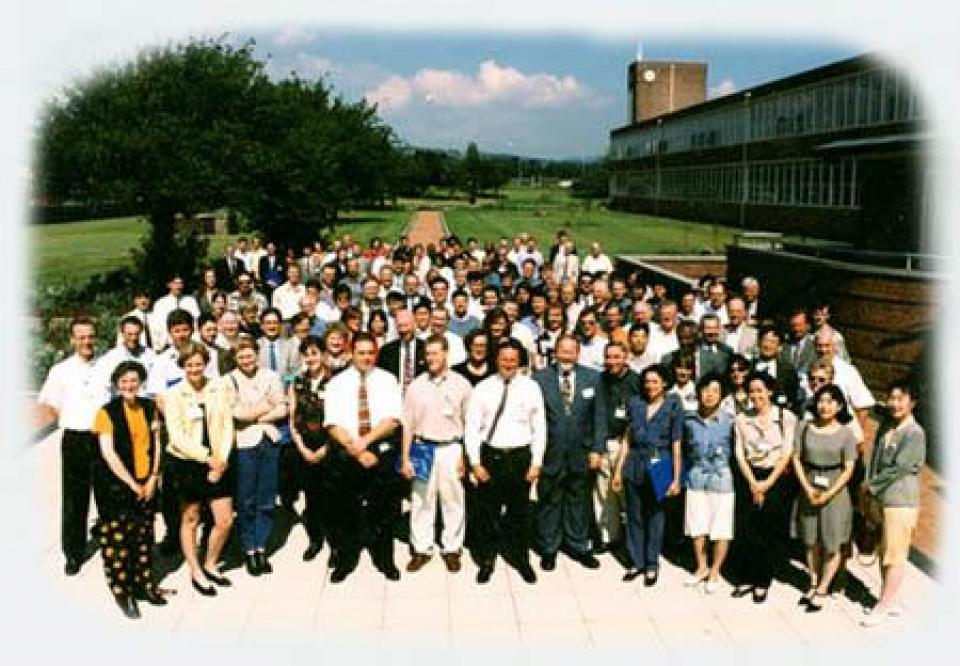 The Food Hydrocolloids Trust was established in 1991 and is a UK registered charity (registration number 1006639). The objects of the Trust are the advancement of the education of the public in the field of hydrocolloids in particular through the organisation of educational conferences.
Contact:
Professor Peter A. Williams,
Food Hydrocolloids Trust,
Glyndwr University,
Plas Coch,
Mold Road,
Wrexham LL11 2AW
United Kingdom
Tel: +44 (0)1978 293083
email: williamspa@glyndwr.ac.uk
The Gums and Stabilisers for the Food Industry Conferences
The international conference on 'Gums and Stabilisers for the Food Industry' was initiated at Glyndwr University (formerly North East Wales Institute), Wrexham, in 1981 and has been held biennially since then. These now well established "Gums Conferences" are into their third decade, stronger and more scientific than when they were first conceived. It is well to remind everyone about the objectives of these conferences. They started in an environment where hydrocolloids were commodity materials, with little interaction between researchers and academic institutions, producers and users of additives and ingredients in food products. The subject has accelerated meanwhile. The Proceedings of these conferences have contributed greatly in this respect. They are widely quoted and are now widely  found on the bookshelves in industry and academia. Alongside, the Journal  Food Hydrocolloids has also progressed, with its impact factor growing steadily over the years.
Conference proceedings 
1. Prog. Fd. Nutr. Sci., "Gums and Stabilisers for the Food Industry" (Eds. G. O. Phillips, D. J. Wedlock and P. A. Williams). Pergamon Press Ltd.,  Oxford Vol 6 (1982).
2. "Gums and Stabilisers for the Food Industry 2" (Eds., G. O. Phillips, D. J. Wedlock and P. A. Williams), Pergamon Press Ltd., Oxford (1984).
3.  "Gums and Stabilisers for the Food Industry 3" (Eds., G. O. Phillips, D. J. Wedlock and P. A. Williams), Elsevier Applied Science Publishers  (1986).
4.  "Gums and Stabilisers for the Food Industry 4" (Eds., G. O. Phillips, D. J. Wedlock and P. A. Williams), IRL Press, Oxford, (1988).
5. "Gums and Stabilisers for the Food Industry 5 (G. O. Phillips, D. J. Wedlock and P. A. Williams, Oxford University Press Ltd., Oxford, (1990).
6. "Gums and Stabilisers for the Food Industry 6" (eds Phillips G. O., Williams P. A. and Wedlock D. J.) Oxford University Press Ltd, Oxford (1992).
7. "Gums and Stabilisers for the Food Industry 7" (eds Phillips G. O., Williams, P. A. and Wedlock D. J. ) Oxford University Press, Oxford (1994).
8. "Gums and Stabilisers for the Food Industry 8" (eds Phillips G. O., Williams, P. A. and Wedlock D. J. ) Oxford University Press (1996).
9. "Gums and Stabilisers for the Food Industry 9" (eds.Williams, P. A. aand Phillips, G.O.), Royal Society of Chemistry, Cambridge, UK (1998).
10. "Gums and Stabilisers for the Food Industry 10" (eds Williams, P. A. and Phillips G.O.) Royal Society of Chemistry, Cambridge, UK (2000).
11. "Gums and Stabilisers for the Food Industry 11" (eds Williams, P. A. and Phillips G.O.) Royal Society of Chemistry, Cambridge, UK (2002).
12. "Gums and Stabilisers for the Food Industry 12" (eds Williams, P.A. and Phillips, G.O.) Royal Society of Chemistry, Cambridge, UK (2004)
13. "Gums and Stabilisers for the Food Industry 13" (eds Williams, P.A. and phillips, G.O.) Royal Society of Chemistry, Cambridge, UK (2006)
14. "Gums and Stabilisers for the Food Industry 14" (eds Williams, P.A. and Phillips, G.O.) Royal Society of Chemistry, Cambridge, UK (2008)
15. "Gums and Stabilisers for the Food Industry 15" (eds Williams, P.A. and Phillips, G.O.) Royal Society of Chemistry, Cambridge, UK (2009)
16. "Gums and Stabilisers for the Food Industry 16" (eds Williams, P.A. and Phillips, G.O.) Royal Society of Chemistry, Cambridge, UK (2012)
17. "Gums and Stabilisers for the Food Industry 17" (eds Williams, P.A. and Phillips, G.O.) Royal Society of Chemistry, Cambridge, UK (2014)
18. "Gums and Stabilisers for the Food Industry 18" (eds Williams, P.A. and Phillips, G.O.) Royal Society of Chemistry, Cambridge, UK (2016)
19. Food Hydrocolloids Special Issue Volume 86 January 2019 ISSN 0268-005X