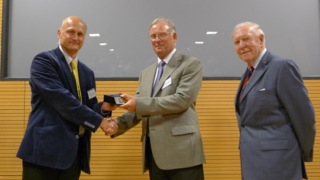 Professor P.A. Williams is Professor of Polymer and Colloid Chemistry and Director of the Centre for Water Soluble Polymers at Glyndwr University which is internationally recognised for its work in the characterisation and properties of polysaccharides. He has over 30 years experience in the synthesis, physicochemical characterisation, solution and interfacial properties of polysaccharides (and other water soluble polymers).
Previous work includes derivatisation of polysaccharides, determination of molecular mass distribution using GPC/MALS, investigation of polysaccharide conformational transitions and gelation using DSC, rheology and ESR spectroscopy, the adsorption of polymers onto surfaces and the ability of polymers to stabilise dispersions/emulsions.
He has published over 200 research papers, edited over 40 books and is Editor-in-Chief of the international journal Food Hydrocolloids. He has organised more than 30 international conferences on behalf of the Royal Society of Chemistry, the Society of Chemical Industry, the Food Hydrocolloids Trust and the Cellucon Trust.
He has been able to attract major funding with grant capture in excess of £3M since 2000. Recent research projects include;
'Elucidation of the molecular characteristics and emulsification properties of citrus and sugar beet pectin' (BBSRC £149K 2005/ 2008);
'Polysaccharide – protein complexes as novel emulsifiers', (San Ei Gen FFI, Inc. Japan, £50K 2005/2008);
'Water soluble polymers in cosmetics' (Welsh Assembly Government (KEF) £136K 2004/06);
'Development of novel clarifiers for the brewing industry,' (Lallemand UK Ltd, £93K 2008/2010);
'New improved muds from environmental sources' (Technology Strategy Board, £284K, 2008/2011);
'Development of an optimized formulation for powders' (GlaxoSmithKline, £64K, 2009/2010);
'Sustainable technologies for chitosan and novel functional derivatives' (Technology Strategy Board £104K, 2009/12);
'Industrial Biopolymers Knowledge Transfer Centre' (Welsh Assembly Government £202K, 2009/2012);
Russell IPM Ltd (Knowledge Transfer Partnership) 'Development of agrochemical formulations to protect crops against insects' £107,200 2010/12;
BBSRC 'Isolation, fractionation and modification of fructans from rye-grass to produce novel biosurfactants and polymers as part of a rye-grass biorefinery (£211,258.40 2010/2012).