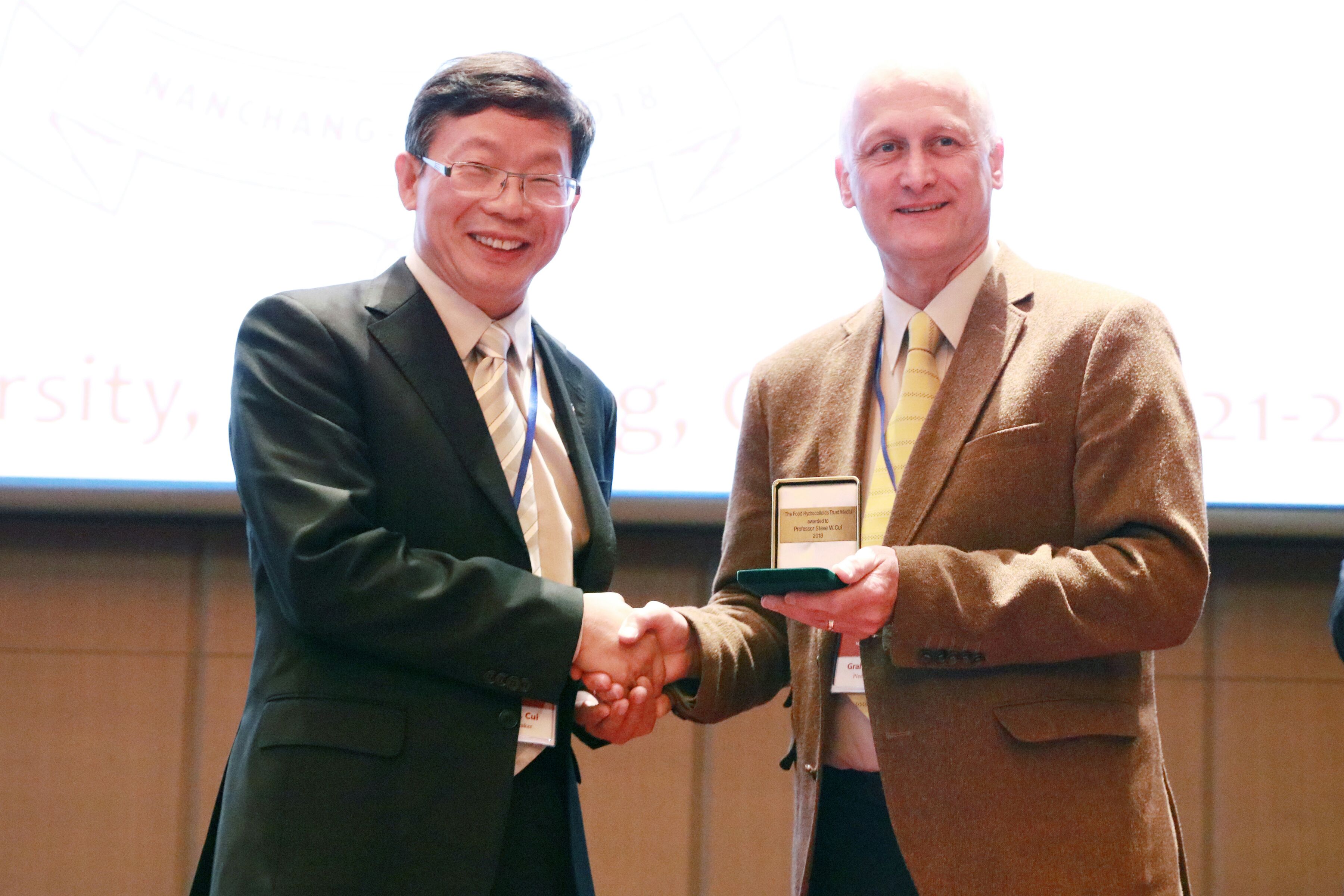 Professor Cui is a Senior Research Scientist at the Guelph Research and Development Centre, Agriculture and Agri-Food Canada, Adjunct Professor at the University of Guelph (Canada), Nanchang University and Jiangnan University (China). Prof Cui's expertise includes structure and functional studies of natural hydrocolloids and bioactive polysaccharides from agricultural products, processing and applications of dietary fibre and dietary fibre analysis. Dr. Cui has developed patented technologies for value added processing of Canadian crops to produce functional food products and bio-products. His patented Flaxseed Dehulling Technology was successfully commercialized and received the Technology Transfer Leadership Award from Canadian Federal Government in 2006.
Prof. Cui's involvement with the field of Hydrocolloids started from 1993: he received the Best Poster Award at his first Gums and Stabilisers for the Food Industry conference held at Wrexham, North Wales. He then became a regular attendee of the conference for the last 25 years and developed deep friendship with Professor Glyn O. Phillips. He is also a regular attendee of the International Hydrocolloids Conferences (IHC) since 1994 and Chaired the 2002 and 2016 (Co-Chaired with Professor Doug Goff) IHC conference held in Guelph, Canada. He is one of the key organizers of this International Hydrocolloids Conference (https://www.international-hydrocolloids-conference.com) and published over 60 papers in Food Hydrocolloids, 15 papers in Bioactive Carbohydrates and Dietary Fibre, and several chapters in the Gums and Stabilisers for the Food Industry. He has published over 200 publications peer reviewed papers, three books: Polysaccharide Gums from Agricultural Products (CRC Press, 2000), Food Carbohydrates (CRC Press, 2005) and Bioactive Polysaccharides (Elsevier, 2017; Co-Authored with Professor Mingyong Xie and Shaoping Nie). Professor Cui was Managing Guest Editor for the following journals: Food Hydrocolloids (from 2002 to 2018, 5 issues), Food Research International (Editor and Managing Guest Editor), Trends in Food Science and Technology (Guest Editor, 2003). In 2013, he founded and acts as Editor-in-Chief of the new journal Bioactive Carbohydrates and Dietary Fibre, which is becoming an important journal in the field.
Dr. Cui graduated from Peking University, China with a B.Sc. degree in 1983, from Jiangnan University (Wuxi, China) with a M.Sc. degree in 1986, and from the University of Manitoba (Winnipeg, Manitoba) with a Ph.D. degree in 1993 specialized in food carbohydrates.